Forest Photographs by Erik Chmil: A Tribute To Nature
Submitted by WhiteWall Team
© ERIK CHMIL - from the photo series "Kraftorte – Waldbilder" (powerful places – forest pictures).
The forest photographs by WhiteWall Ambassador Erik Chmil have a very special charm. From the first glance we submerge in the contemplative, calming atmosphere: flowing streams make their way through unspoiled forests and the evening sun lights up wildly growing bog meadows. In the photographic series "Kraftorte – Waldbilder" Erik Chmil presents the forest as a meditative place, as an unlimited space for relaxation and healing.
Finding those pristine woodlands and capturing them photographically at the right time was not easy. Before the shootings, Erik Chmil (born in 1968) researched online and asked forest rangers about places where nature was particularly wild. With his 25kg of camera equipment, the German photographer left the designated forest trails and hiked through nature during several hours.
After the time-consuming location scouting, exploring the scene was a special moment for Erik Chmil: "Finally I discovered a fruitful place again and I felt this peace and intensity of the forest, and of course the energy that the sun has unfurled at that place" Chmil recounts in his conversation with the photo magazine "digit!". It could take some time until the sun was standing in the right position to create ideal lighting conditions. "Sometimes it takes hours, and whenever things are not perfect I return on the next day" he says.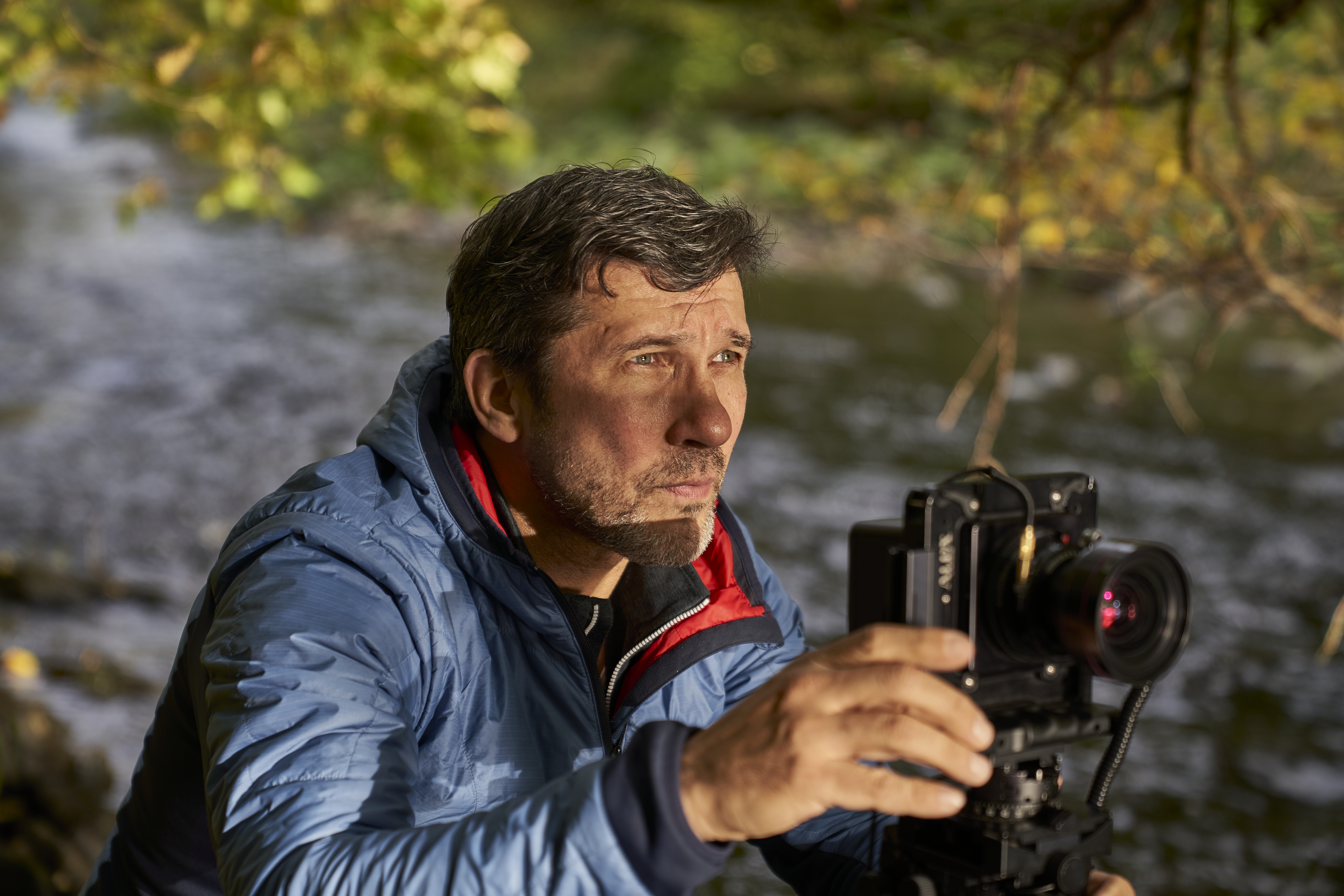 Erik Chmil with a camera at a river - © WhiteWall.
Impressive presentation as a WhiteWall Masterprint
The resulting artwork reveals the photographer's patience and the keen sense. Chmil, who has established himself as a renowned art and commercial photographer, trusts WhiteWall for presenting his work and shows the images in monumental formats as WhiteWall Masterprint. With a worldwide unique printing method, WhiteWall enables the creation of seamless Fine Art pigment prints up to a size of 500cm x 240cm (196 x 94 in.).
Erik Chmil's fascinating photographs unfold an impressive color brilliance and strong contrasts as WhiteWall Masterprint, also in a large format. Even the finest details such as small branches, leaves, and grasses are clearly visible. The viewer has the impression of being able to enter the forest. Depending on their size, the photos are laminated with a highly elastic silicone under acrylic glass with a thickness of 4mm or 5mm (1/8 in. or 5/32 in.).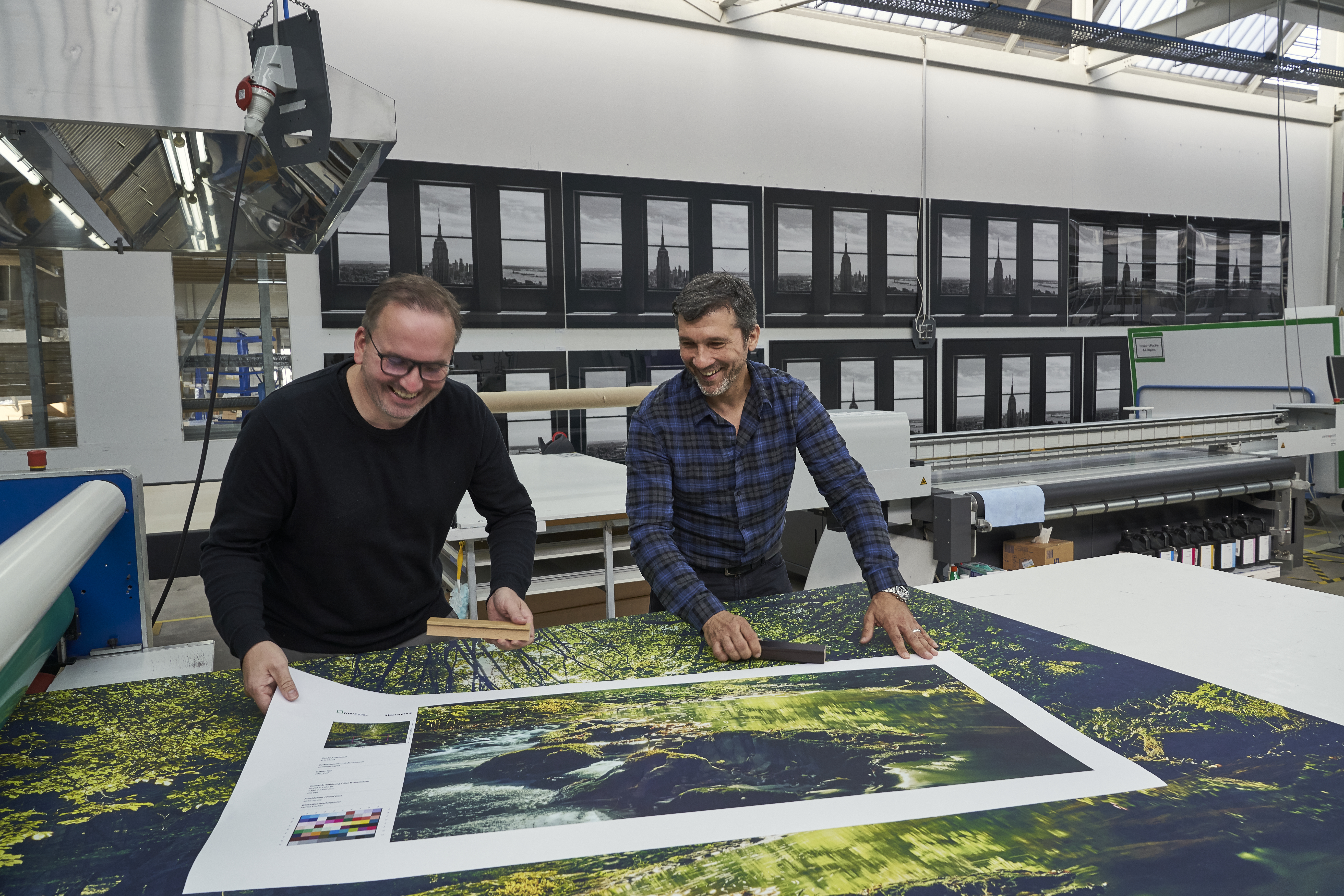 Erik Chmil in the WhiteWall lab - © WhiteWall Lab.
Erik Chmil sees his artwork in many places: "I think that the murals would be perfect for the lobby of companies seeking to visualize sustainability or for institutions dealing with esoterism or meditation" he says in his interview with "digit!". Also, the photos would be a good fit for spaces "where they could offer comfort in difficult situations of life by creating places with a powerful energy". The WhiteWall Masterprint optimally accentuates the quality of Erik Chmil's artwork. Would you also like to present your photos in a monumental size? Learn more about the WhiteWall Masterprint and visit our virtual showroom. Our experts will be there to assist you at any time!
Also Interesting: